Sojourner Truth
Ares Vallis
MARS

November 4, 1997
Dear Mom,
I'm sorry I haven't written. I didn't want my letters intercepted by the Earth Team. I wanted them to believe we were incommunicado until they finally gave up. Well, today they did.
The Earth Team has finally given up on us. We are so sick of them trying to call! Carl just refused to talk to them anymore as he's so worn out. The IMP took pictures at the wedding. I am enclosing them for you. He enjoyed the open bar more than he should have so not all the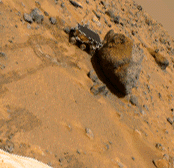 pictures turned out so well. He found a cute little chick up here and he's taking pictures galore. Believe me you'll never see these on Earth! At least it keeps him away from me and Yogi!
Mom, we have so much to be thankful for this Thanksgiving. I'm in love. I'm married to a most uncommon basalt. I'm the happiest woman on Mars and YOU'RE GOING TO BE A GRANDMA. If it's a girl, we're going to name her Martia. If it's a boy, it'll be Carl. Carl is so proud you'd think he was the father. The IMP is pouting again, but can you imagine naming a baby IMP?
Love and Happy Thanksgiving,
S.T., Yogi, & ?
---
Dedicated to my Earth Mom
Story by
Laurel Devitt
HTML markup by
Sue Kientz
Photos by
IMP
Made possible by the many JPL/NASA Status Reports posted on the Internet by
Ron Baalke
But Wait! You need to read the Lost Letters of S.T.
recently discovered by Dr. Henry Moore